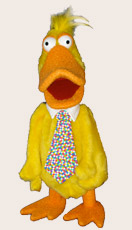 Hi, I'm Larry The Duck. I perform in schools and libraries, doing educationally significant assembly programs. I take Tim Sonefelt along with me, and if you've seen one of our programs, you'll realize I've tricked him into doing most of the work. Don't tell him though!
He might start making me work harder than I do. He's a pretty cool guy, so I plan on keeping him around for a while. Besides, it's a few more years before I'll be old enough to drive. My little webbed feet still won't reach the gas pedal!
Anyway, thanks for coming to my web site. Take a look around. Be sure to check out the page with my book. Yes, I've written a book. I drew all the pictures too! And remember . . . I'm NOT A DUCK! I'm an author.